Opportunities Don't Happen. You Create Them
In the pursuit of our dreams and aspirations, we often hear the phrase, "Opportunities don't happen.
You create them." These words, spoken by photographer and entrepreneur Chris Grosser, encapsulate a fundamental truth about life. Success is not solely a result of chance or luck; rather, it is the outcome of deliberate actions, perseverance, and a proactive approach to seizing opportunities. In this blog, we will delve deeper into this concept and explore how you can actively create opportunities for yourself.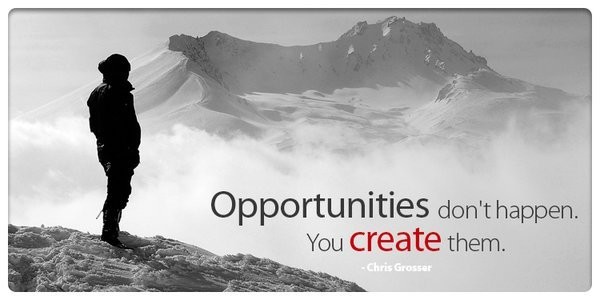 The Power of Intention
Creating opportunities begins with a clear intention.
Whether it's in your personal life or your career, setting specific goals and objectives is crucial.
When you know what you want to achieve, you can start working towards it with purpose.
It's like setting a destination on a map; once you know where you're headed, you can plan your route.
Developing Skills and Knowledge
To create opportunities, it's essential to continuously improve and expand your skills and knowledge. Education and self-improvement are the keys to unlocking doors that were previously closed.
Whether it's through formal education, self-study, or skill development, the more you learn and grow, the more valuable you become to others and the more opportunities you can create for yourself.
Networking and Building Relationships
Building and nurturing relationships is a vital aspect of creating opportunities. Your network can introduce you to new possibilities, mentor you, and offer advice and guidance. Attend events, join professional organizations, and connect with people who share your interests and goals. Remember, opportunities often come through people.
Taking Calculated Risks
Creating opportunities sometimes involves stepping out of your comfort zone and taking calculated risks. You may need to try new things, explore uncharted territory, or take on challenges that others shy away from. Remember that growth and innovation often stem from embracing uncertainty and change.
Adaptability and Resilience
Not every opportunity will lead to immediate success. There will be setbacks and failures along the way. It's essential to remain adaptable and resilient in the face of adversity. These qualities will help you learn from your experiences and turn obstacles into stepping stones toward your goals.
Stay Inquisitive:
Curiosity is a powerful driver of opportunity. Ask questions, seek to understand, and never stop learning. Often, the most innovative opportunities emerge from a deep understanding of a particular field or industry.
Embrace Failure:
Failures are not the end; they're stepping stones on the path to success. Don't let fear of failure deter you from taking action.
Set Milestones:
Break your long-term goals into smaller, achievable milestones.
Give Back:
By contributing your skills, knowledge, or resources to a community or a cause you care about, you may encounter unexpected opportunities and build a positive reputation.
Visualize Success:
Visualization can be a powerful tool. Create a mental image of the opportunities you want to create and the success you aim to achieve. This can help maintain your focus and motivation.
Time Management:
Efficiently managing your time is crucial for creating opportunities. Prioritize tasks that align with your goals and eliminate time-wasting activities. By being organized and disciplined, you can make the most of your day.
Stay Open to Change:
The world is dynamic, and opportunities may shift over time. Being open to change and adapting to new circumstances is essential. Flexibility can open doors that rigidity would keep closed.
Persistence:
Creating opportunities is rarely an instant process. It often takes time and persistence.
Learn from Success Stories:
Study the success stories of individuals who have created opportunities for themselves. Their experiences can offer valuable insights and inspiration.
Celebrate Your Achievements:
Don't forget to celebrate your successes, no matter how small they may seem. Recognizing your achievements can boost your morale and motivate you to keep pushing forward.
Conclusion
The concept that "Opportunities don't happen. You create them" underscores the importance of personal agency in achieving success. By setting clear goals, developing your skills, building relationships, taking calculated risks, and remaining adaptable, you can actively shape your future and create opportunities that lead to the realization of your dreams.
In the pursuit of our dreams and aspirations, we often hear the phrase, "Opportunities don't happen. You create them." These words, spoken by photographer and entrepreneur Chris Grosser, encapsulate a fundamental truth about life. Success is not solely a result of chance or luck; rather, it is the outcome of deliberate actions, perseverance, and a…
In the pursuit of our dreams and aspirations, we often hear the phrase, "Opportunities don't happen. You create them." These words, spoken by photographer and entrepreneur Chris Grosser, encapsulate a fundamental truth about life. Success is not solely a result of chance or luck; rather, it is the outcome of deliberate actions, perseverance, and a…