BAN vs NED: Netherlands Second victory in the World Cup
Bangladesh vs Netherlands highlights:
BAN vs NED : As the Netherlands won, Bangladesh suffered its fifth defeat in the World Cup. After defeating South Africa, this is the Orange Army's second win in the tournament.
Kolkata:
The Netherlands team, which was considered weak, has registered its second win of the World Cup 2023 by defeating the stronger Bangladesh by 87 runs. Batting first after winning the toss at the historic Eden Gardens stadium, the Dutch team scored 229 runs with the help of a patient half-century from captain Colin Edwards.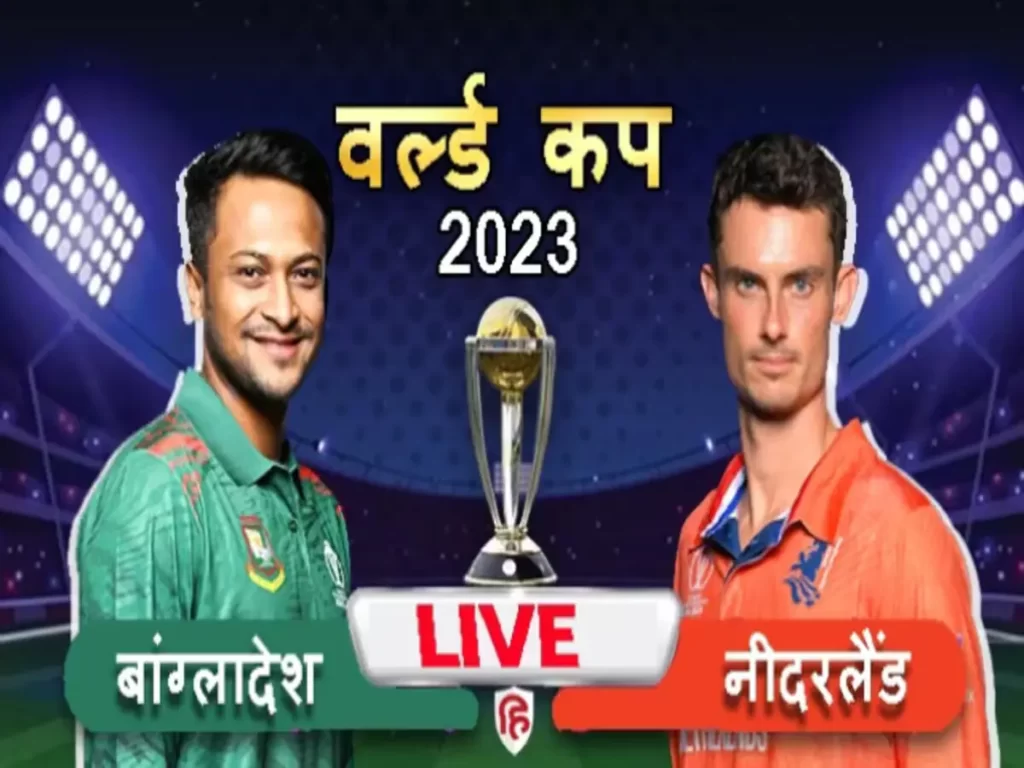 After this, due to excellent bowling and tremendous fielding, Bangla Tigers were restricted to 142 runs in 42.2 overs. This is Bangladesh's fifth consecutive defeat. He has two points from six matches and is almost out of the race for the semi-finals. Netherlands have four points from their second win in six matches and have kept their hopes alive. Earlier, they had shown the way out by defeating two-time champions West Indies in the qualifying.
BAN vs NED : Fifth victory in World Cup history
Netherlands players do not play professional cricket for 12 months. Some of them are officers and some are delivery boys. Some are electricians and some are charter accountants. Despite this, these players are doing so well. Setting an example. This is Netherlands' fifth overall win in World Cup history and second win in the current tournament. Earlier the team had defeated South Africa.
Bangladesh out of knockout race
Despite full support in the stadium, Bengali batsmen could not play as per their name. For the Orange Army, Paul von Meekeren gave his career best performance, taking four wickets for 23 runs. The maximum score of 35 runs for Bangladesh came from the bat of Mehdi Hasan Miraj. Six batsmen of Bangladesh reached double figures, out of which Mehdi Hasan Miraz scored the highest score of 35 runs. Bangladesh lost the wickets of openers Liton Das (03) and Tanjid Hasan (15) in consecutive overs.
By the sixth over, Bangladesh's score was 19 runs for two wickets. Paul von Meekeran dismantled Bangladesh's middle order by dismissing Nazmul Hasan Shanto (09), captain Shakib Al Hasan (07) and experienced batsman Mushfiqur Rahim (01). Bas de Lead (2/25) meanwhile ended Mirage's aggressive behavior by getting him caught by Edwards.
After this, Mahmudullah (20) and Mehdi Hasan (17) did not allow any wicket to fall for 12 overs. This partnership broke due to the run out of Mehdi Hasan. D Lead also ended Bangladesh's real hopes by getting Mahmudullah caught at mid-wicket.
BAN vs NED : Edwards' captaincy innings won the match
In the match, Netherlands, despite a bad start, scored 229 runs after losing all the wickets in 50 overs. Edwards played an inning of 68 runs in 89 balls. He made a partnership of 78 runs for the sixth wicket with Sybrand Engelbrecht (35 runs off 61 balls). Apart from these two, Wesley Baresi contributed 41 runs while Logan Van Beek played an unbeaten inning of 23 runs on 16 balls in the last overs.।
For Bangladesh, Mustafizur Rahman, Taskin Ahmed, Mahedi Hasan and Shoriful Islam took two wickets each. The Netherlands' decision to bat first after winning the toss did not work out as Bangladesh's bowlers immediately dominated them. Netherlands' score became 63 runs for 4 wickets.
If Edwards had not got two lives in one over from Mustafizur, his situation would have worsened. Edwards had not even opened his account then.
Edwards took full advantage of this but Bas de Leede (17 runs off 32 balls) could not support his captain for long despite spending enough time at the crease. Both of them added 44 runs on 74 balls for the fifth wicket.
Bangladesh vs Netherlands highlights: BAN vs NED : As the Netherlands won, Bangladesh suffered its fifth defeat in the World Cup. After defeating South Africa, this is the Orange Army's second win in the tournament. Kolkata: The Netherlands team, which was considered weak, has registered its second win of the World Cup 2023 by defeating…
Bangladesh vs Netherlands highlights: BAN vs NED : As the Netherlands won, Bangladesh suffered its fifth defeat in the World Cup. After defeating South Africa, this is the Orange Army's second win in the tournament. Kolkata: The Netherlands team, which was considered weak, has registered its second win of the World Cup 2023 by defeating…