Success Is Not A Destination But A Journey
Success Is Not A Destination But A Journey , a word that holds different meanings for different people, is often associated with reaching a specific goal, acquiring wealth, or achieving recognition.
Many individuals view success as a destination, something to be reached and then maintained. However, a profound perspective on success is that it is not a destination at all but a continuous journey. In this blog, we will explore why success should be seen as an ongoing journey rather than a fixed endpoint.
The Myth of the Destination
The idea of success as a destination is deeply ingrained in our society. From a young age, we are told to set goals, work hard, and achieve them. Once we attain our objectives, we are led to believe that we have reached success. This mindset can lead to several misconceptions:
Limited Growth: When success is seen as a destination, people may become complacent once they achieve their goals. They stop pushing themselves to improve and grow.
Fear of Failure: The fear of failing to reach that "destination" can be paralyzing. People may avoid taking risks or trying new things out of fear that they won't reach their perceived endpoint.
Lack of Fulfillment: Individuals who view success as a destination often find themselves feeling empty or unfulfilled after achieving their goals. They realize that the journey was more rewarding than the destination itself.
The Journey Perspective: Success Is Not A Destination But A Journey
Embracing success as a journey shifts our mindset and has several advantages:
Continuous Growth: When we see success as a journey, we understand that there is always room for improvement. Each step we take, each challenge we face, contributes to our personal and professional growth.
Resilience: Failure is no longer a dreaded outcome but a part of the journey. It becomes a learning experience rather than a setback. This resilience allows us to bounce back stronger after setbacks.
Enjoying the Process: Success is not just about reaching the finish line; it's about savoring every moment along the way. The journey itself becomes a source of joy and satisfaction.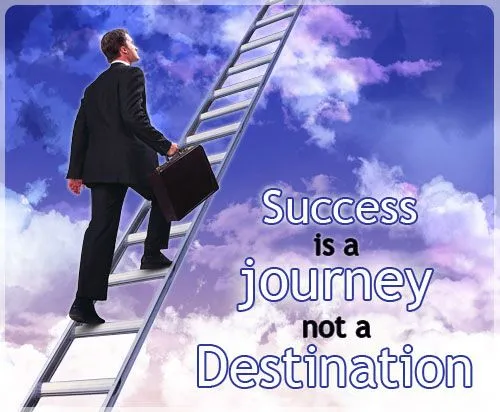 Adaptability: In a constantly changing world, the ability to adapt is crucial. Seeing success as a journey encourages us to be flexible and open to new opportunities and challenges.
Endless Possibilities: When success is a journey, there are no limits to what we can achieve. We are not confined by a fixed endpoint, which means we can dream bigger and reach higher.
The Power of Purpose
In the journey of success, having a clear sense of purpose becomes paramount. When we focus on a purpose rather than just a destination, our actions become more meaningful and our motivation remains strong. Purpose gives us the drive to persevere through challenges and setbacks because we understand the "why" behind our journey.
It's important to take time to reflect on your values, passions, and what truly matters to you. When your journey aligns with your purpose, success takes on a deeper significance. You're not just chasing empty achievements; you're striving to make a positive impact on yourself and the world around you.
Overcoming Obstacles
The journey to success is not without its obstacles and setbacks. However, when you view success as a journey, you develop the resilience needed to overcome these challenges. Instead of seeing obstacles as insurmountable roadblocks, you see them as opportunities for growth and learning.
Each setback becomes a valuable lesson, providing insights that help you make better decisions and navigate future challenges more effectively. Embracing the journey means that you don't let failures define you; instead, you use them as stepping stones towards your ultimate goals.
Celebrating Milestones
While success as a journey emphasizes the importance of the process, it doesn't mean you should neglect celebrating your achievements. Milestones along the way are worth acknowledging and celebrating. These celebrations serve as motivation and encouragement to keep moving forward.
However, instead of viewing these milestones as the end of the road, see them as markers of progress along your journey. They are moments to reflect on how far you've come and to set new goals for the next leg of your journey.
Embracing the Unknown
Success as a journey is often an unpredictable one. You may start with a clear plan, but along the way, you may discover new passions, interests, and opportunities you hadn't anticipated. Embrace the unknown and be open to change. It's in the unexpected twists and turns of your journey that you may find the most valuable experiences and achievements.
The Legacy of a Journey :Success Is Not A Destination But A Journey
When success is seen as an ongoing journey, it often leads to the creation of a more profound and lasting legacy. A journey-focused mindset encourages individuals to contribute to their communities and to the world at large. Instead of accumulating wealth or accolades for their own sake, they seek to make a positive impact on the lives of others.
As you progress along your journey, consider how your actions and achievements can benefit not only yourself but also those around you. Your journey can inspire and uplift others, motivating them to embark on their own quests for personal and professional growth.
Finding Balance in the Journey
It's important to note that while the journey to success is rewarding, it should be balanced with other aspects of life. Success should not come at the cost of your health, relationships, or overall well-being. A balanced approach to the journey ensures that you experience fulfilment on multiple levels.
Take time to nurture your physical and mental health, maintain meaningful connections with loved ones, and engage in activities that bring you joy and relaxation. A well-rounded journey to success encompasses all aspects of your life, leading to a more sustainable and satisfying existence.
Embracing the Present Moment
One of the most significant benefits of viewing success as a journey is that it encourages mindfulness and presence in the here and now. When we focus on the destination, we can become fixated on the future, often at the expense of appreciating the present moment.
The journey perspective invites you to savor each step, finding beauty and meaning in the process itself. It encourages gratitude for the opportunities, experiences, and lessons you encounter along the way. This mindfulness can lead to a more fulfilling and contented life, regardless of where you are on your journey.
The Ripple Effect of a Journey-Centric Approach
When you fully embrace the idea that Success Is Not A Destination But A Journey, your mindset has the potential to positively influence those around you. Your commitment to personal growth, resilience in the face of challenges, and dedication to a purpose-driven life can serve as an example for others.
Inspiration: Your journey can inspire friends, family, colleagues, and even strangers. When they witness your dedication to continuous improvement and your ability to overcome obstacles, they may find the motivation to embark on their own journeys towards success.
Support Network: As you journey toward your goals, you'll likely encounter like-minded individuals who share your values and aspirations. These connections can form a supportive network that not only encourages your growth but also provides invaluable resources and insights.
Positive Impact: By viewing success as a journey, you're more likely to make choices that align with your values and contribute positively to society. Whether through philanthropy, volunteering, or simply living a purpose-driven life, your actions can have a ripple effect on your community and beyond.
The Ever-Evolving Journey
It's essential to recognize that the journey to success is not a static path. It evolves over time, reflecting your changing goals, priorities, and experiences. What you define as success today may differ from what you aspire to achieve tomorrow.
As you progress on your Success Is Not A Destination But A Journey , periodically take the time to reassess your goals and redefine your vision of success. This flexibility allows you to adapt to new circumstances, pursue emerging passions, and continue growing in directions that resonate with your evolving sense of purpose.
Ultimately, the beauty of viewing success as a journey lies in its endless possibilities and potential for personal transformation. It's a mindset that invites you to embrace the challenges, celebrate the achievements, and cherish the moments of joy that accompany the pursuit of your goals.
Conclusion
Success is a dynamic, ever-evolving concept that should be embraced as a journey rather than a destination.
This shift in perspective allows us to grow continuously, learn from failures, and find fulfilment in the process. It encourages us to adapt, stay resilient, and explore endless possibilities. So, as you set your goals and work toward them, remember that the true essence of Success Is Not A Destination But A Journey lies not in reaching a destination but in the beautiful, ongoing journey of growth and self-discovery.
Success Is Not A Destination But A Journey , a word that holds different meanings for different people, is often associated with reaching a specific goal, acquiring wealth, or achieving recognition. Many individuals view success as a destination, something to be reached and then maintained. However, a profound perspective on success is that it is…
Success Is Not A Destination But A Journey , a word that holds different meanings for different people, is often associated with reaching a specific goal, acquiring wealth, or achieving recognition. Many individuals view success as a destination, something to be reached and then maintained. However, a profound perspective on success is that it is…