Aim For The Moon And Land Among The Stars
The famous saying, "Aim for the moon, and even if you miss, you'll land among the stars," has inspired countless individuals to dream big, set audacious goals, and reach for the seemingly unreachable.
This quote encapsulates the idea that setting high aspirations can lead to remarkable achievements, even if the original target isn't reached. In this article, we will explore the profound wisdom behind the phrase "Aim For The Moon And Land Among The Stars" and how it can be a guiding principle for anyone seeking success and personal growth.
The Power of Ambition
Ambition is the driving force that propels individuals to push beyond their comfort zones and strive for greatness. When you aim for the moon, you are setting your sights on something extraordinary.
Such ambitions can be daunting, but they have the power to awaken your potential and drive you to excel in ways you never thought possible.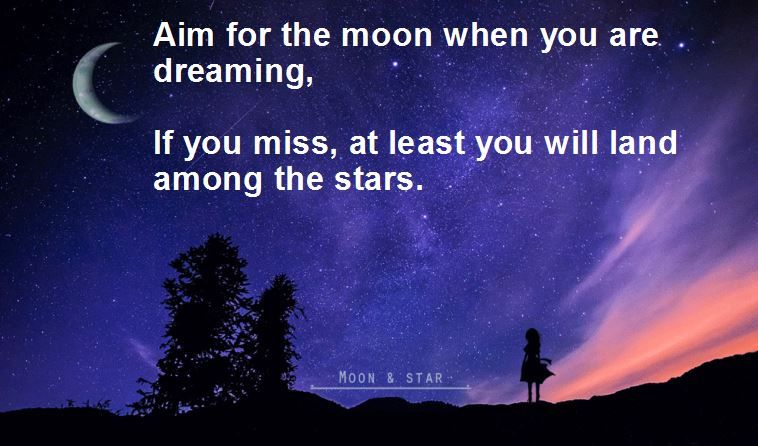 Embracing the Unknown
Aiming for the moon implies venturing into the unknown. It means taking risks, exploring uncharted territories, and confronting challenges head-on.
While it may be intimidating, this journey of discovery can lead to unforeseen opportunities and personal growth. When you reach for the moon, you open yourself up to a world of possibilities.
Resilience in the Face of Failure
Not every attempt to reach the moon will be successful. Failure is a natural part of any ambitious endeavour. However, the beauty of aiming high is that even when you fall short, you've still achieved something significant.
You may not have reached your initial goal, but you will have travelled far and accomplished more than if you had aimed lower.
The Journey Matters
The path to reaching your ambitious goals is as important as the goals themselves. When you aim for the moon, you embark on a transformative journey of self-discovery, self-improvement, and personal development. The process of pursuing your dreams teaches you resilience, determination, and adaptability—all essential qualities for success.
Inspiring Others
Setting ambitious goals not only benefits you but also serves as an inspiration to those around you. When people witness your unwavering commitment and see you striving for greatness, it encourages them to do the same. Your ambition can be a catalyst for positive change in your community and even the world.
Landing Among the Stars
The phrase "land among the stars" reminds us that even if we don't achieve our initial goal, our efforts are not in vain.
By daring to dream big and taking action, we elevate ourselves and reach heights we never imagined. Success is not always defined by reaching a specific destination; it is often found in the journey and the personal growth it brings.
Reinventing Your Dreams
Aiming for the moon doesn't mean you have to settle for a single, unchanging goal. As you progress on your journey, you may discover new passions, talents, and interests. The pursuit of a grand ambition can lead to the realization that there are even bigger dreams worth chasing. Landing among the stars isn't the end; it's a launching point for the next phase of your aspirations.
A Legacy of Ambition
History is replete with stories of individuals who aimed high, failed, adapted, and eventually achieved greatness.
From the remarkable journeys of explorers and inventors to the tenacity of artists and entrepreneurs, ambition has shaped the course of human progress.
By embracing the "moon and stars" mindset, you become part of a legacy of visionaries who dared to make their mark on the world.
Perseverance Through Challenges
Aiming for the moon necessitates resilience in the face of adversity. Challenges are part and parcel of any significant undertaking, but they are also opportunities for growth. When you encounter setbacks, remember that they are stepping stones on your path to success. The trials and tribulations you face will ultimately strengthen your resolve and refine your character.
Finding Fulfillment
The pursuit of ambitious goals can lead to a profound sense of fulfillment. There is an intrinsic satisfaction in knowing that you've given your all, stretched your limits, and embraced the unknown. The journey itself becomes a source of happiness and contentment, regardless of whether you reach the moon or the stars.
Examples of Great people
Certainly! Here are some real-life examples of individuals who aimed for the moon and, even if they didn't reach their initial goals, landed among the stars:
Thomas Edison – Edison is famous for his numerous attempts to invent the electric light bulb.
While he didn't succeed on his first try, his relentless pursuit of innovation led to the development of many other groundbreaking inventions and improvements in electrical technology.
J.K. Rowling – Before achieving massive success with the Harry Potter series, Rowling faced rejection from multiple publishers.
She aimed to create a beloved children's book but ended up becoming one of the most celebrated authors in the world.
Walt Disney – Disney's journey to create Disneyland faced numerous obstacles, including financial setbacks and initial scepticism from potential investors. However, his ambition to create a magical world for families eventually led to the creation of a global entertainment empire.
Elon Musk – Musk's ambitious goal of establishing a human colony on Mars is still a work in progress. However, his ventures, such as Tesla and SpaceX, have already made significant impacts on electric vehicles and space exploration, revolutionizing industries along the way.
Amelia Earhart – While Earhart's aim was to become the first woman to fly solo across the Atlantic Ocean, she went on to achieve numerous aviation milestones.
Her determination and courage continue to inspire women in the field of aviation.
Nelson Mandela – Mandela's initial goal was to end apartheid in South Africa, a monumental task. Although he spent 27 years in prison and didn't achieve this goal on his own, his perseverance and leadership eventually led to the dismantling of apartheid and his election as South Africa's first black president.
Marie Curie – Curie's pioneering research in radioactivity earned her two Nobel Prizes, but she faced immense challenges as a woman in a male-dominated field.
Her ambition to push the boundaries of scientific knowledge led to groundbreaking discoveries that continue to influence the field of physics and medicine.
These examples demonstrate that even when individuals don't achieve their initial objectives, their ambition, resilience, and determination often lead to remarkable accomplishments and lasting legacies. They inspire us to set ambitious goals and continue striving for greatness, no matter the obstacles we face.
Conclusion
In the grand tapestry of life, Aim For The Moon And Land Among The Stars is not just a quote; it's a philosophy that can guide you towards a more meaningful existence. It encourages you to set audacious goals, persevere through challenges, inspire others, and continuously reinvent your aspirations.
Embracing this mindset means living a life of purpose and limitless potential, where the pursuit of greatness becomes a lifelong endeavour.
So, don't be afraid to aim high, for in the vast cosmos of possibilities, your dreams can truly take flight, and you may find yourself among the stars you've always admired.
The famous saying, "Aim for the moon, and even if you miss, you'll land among the stars," has inspired countless individuals to dream big, set audacious goals, and reach for the seemingly unreachable. This quote encapsulates the idea that setting high aspirations can lead to remarkable achievements, even if the original target isn't reached. In…
The famous saying, "Aim for the moon, and even if you miss, you'll land among the stars," has inspired countless individuals to dream big, set audacious goals, and reach for the seemingly unreachable. This quote encapsulates the idea that setting high aspirations can lead to remarkable achievements, even if the original target isn't reached. In…