Samsung Galaxy S23 FE-Flagship Level Experience At A Low Price
Samsung Galaxy History
The history of the Samsung Galaxy S23 FE, a line of Android-based smartphones and tablets, is a fascinating journey through innovation and technological advancements. Here's a brief overview of its history:
Early Beginnings (2009)
The Samsung Galaxy series was officially launched in April 2009 with the release of the Samsung Galaxy i7500. This early smartphone featured a 3.2-inch AMOLED display and ran on the Android 1.5 Cupcake operating system.
Galaxy S Series (2010)
Samsung made a significant impact with the launch of the Galaxy S series in 2010.

The Samsung Galaxy S featured a 4-inch Super AMOLED display and marked the beginning of Samsung's dominance in the Android smartphone market.
Galaxy Note Series (2011)
In 2011, Samsung introduced the Galaxy Note, which was notable for its larger screen size and the inclusion of an S Pen stylus. This series catered to those who wanted both a phone and a tablet-like experience.
Continued Innovation (2012-2016)
Over the years, Samsung continued to innovate with features like water resistance, curved displays (Edge series), and improvements in camera technology.
The Galaxy S4, S5, S6, and S7 were all popular flagship models during this period.
Challenges and Recovery (2016-2017)
Samsung faced a significant setback 2016 with the Galaxy Note 7, which had battery issues leading to safety concerns and recalls. However, they quickly recovered from this setback.
Infinity Display Era (2017-2018)
In 2017, Samsung introduced the Galaxy S8 and S8+ with Infinity Displays, featuring minimal bezels and a sleek design.
The Galaxy Note 8 also continued the trend of larger screens and improved S Pen functionality.
Foldable Phones (2019)
Samsung made a bold move in 2019 with the introduction of the Galaxy Fold, a foldable smartphone with a flexible display.
This marked the beginning of Samsung's exploration into foldable and dual-screen devices.
Recent Innovations (2020-Present)
Samsung has continued to release flagship devices like the Galaxy S21 series and the Note 20 series, with improved cameras, displays, and performance.
The Galaxy Z Fold and Z Flip series have also evolved, showcasing the potential of foldable technology.
Galaxy S22 and Beyond (2022 and beyond)
Samsung is expected to continue its tradition of launching new flagship models with advanced features.
The company is likely to develop its foldable phone lineup further and explore emerging technologies like 5G and AI.
Throughout its history, Samsung Galaxy has played a significant role in shaping the smartphone industry, offering consumers a wide range of choices and pushing the boundaries of mobile technology. The brand has become synonymous with high-quality Android devices and is a major player in the global smartphone market.
Samsung Galaxy S23 FE
Samsung has launched the new flagship smartphone Samsung Galaxy S23 FE 5G for the customers, let us give you detailed information about what is special for the customers in this device packed with premium features. Let us tell you that this phone is an upgraded model of Galaxy S21 FE.
Handset manufacturer Samsung has launched the Samsung Galaxy S23 FE 5G smartphone for the customers. A single variant of this latest flagship smartphone has been launched, this phone is an upgraded version of Galaxy S21 FE. Samsung Galaxy S23 FE is packed with premium features and only a single variant of this handset has been launched.
Samsung Galaxy S23 FE Specifications
Screen: This Samsung smartphone has a 6.4-inch dynamic full-HD Plus AMOLED 2X display that supports a refresh rate of up to 120 Hz.
Chipset: For speed and multitasking, Qualcomm Snapdragon 8 Generation 1/ Exynos 2200 octa-core processor has been used in this latest 5G smartphone. The processor may be different for different regions.
Camera Setup: The rear of the phone has a 50-megapixel primary camera with OIS support, along with a 12-megapixel ultra-wide angle lens and an 8-megapixel telephoto camera sensor.
Connectivity: The phone has connectivity features like Bluetooth version 5.3, Wi-Fi, NFC and GPS.
A 10-megapixel selfie camera sensor has been provided on the front of the phone, the front camera has been downgraded, reminding that the 32-megapixel front camera was given in the Samsung Galaxy S21 FE.
Samsung Galaxy S23 FE Price in India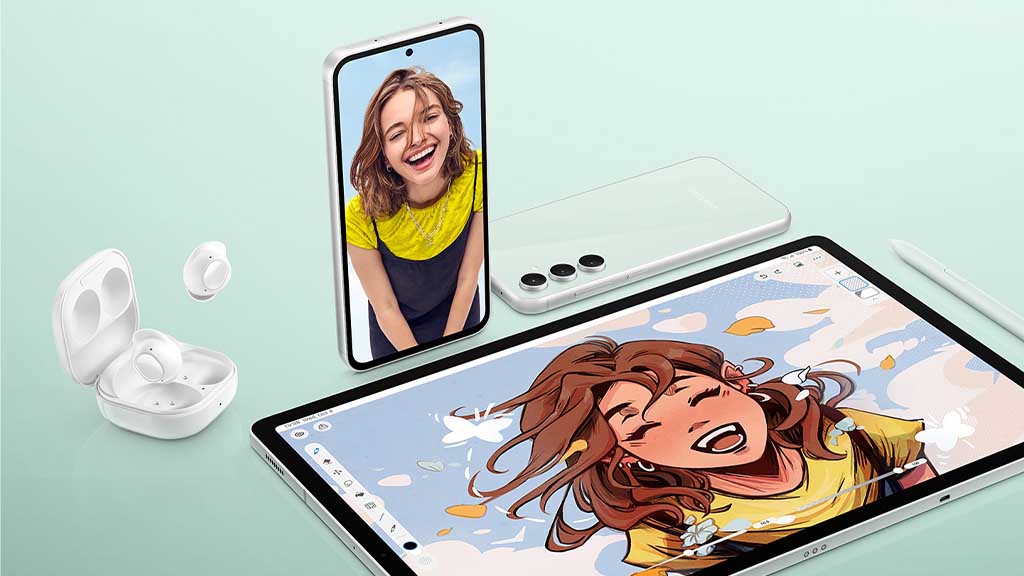 After a long wait, Samsung has finally launched a new phone in its FE series. This phone comes in a premium mid-range budget with flagship-level specifications. You can get flagship-level experience for 10 to 15 thousand rupees less.
Samsung Fan Edition
A new smartphone has been launched in the Galaxy FE series. The brand has launched the Samsung Galaxy S23 FE. The brand has launched the Samsung Galaxy S23 FE, which many people were waiting for. The company had earlier launched Galaxy S21 FE in Exynos and Snapdragon versions. The brand has recently launched the Snapdragon 888 version of Galaxy S21 FE.
Samsung Galaxy History The history of the Samsung Galaxy S23 FE, a line of Android-based smartphones and tablets, is a fascinating journey through innovation and technological advancements. Here's a brief overview of its history: Early Beginnings (2009) The Samsung Galaxy series was officially launched in April 2009 with the release of the Samsung Galaxy i7500.…
Samsung Galaxy History The history of the Samsung Galaxy S23 FE, a line of Android-based smartphones and tablets, is a fascinating journey through innovation and technological advancements. Here's a brief overview of its history: Early Beginnings (2009) The Samsung Galaxy series was officially launched in April 2009 with the release of the Samsung Galaxy i7500.…