Life Is Short, Make It Sweet
In the grand tapestry of existence, the phrase "life is short" serves as a poignant reminder of the fleeting nature of our time on this planet. Each passing moment brings us closer to an unknown future, urging us to savour the present and fill it with the sweetness of experiences, memories, and connections that define our journey.
Embrace the Essence of Simplicity:
Life's sweetness often resides in the simplest of moments. A warm cup of coffee on a chilly morning, a heartfelt conversation with a loved one, or the feeling of sunlight dancing on your skin can evoke a sense of contentment that money can't buy. Embrace the beauty in simplicity and find joy in the little things that surround you.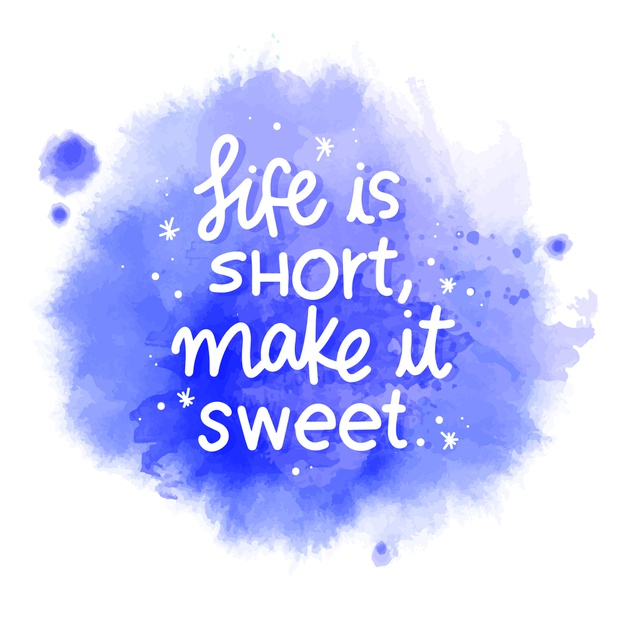 Chase Your Passions:
One of life's greatest gifts is the opportunity to pursue our passions and interests. Whether it's painting, writing, dancing, or gardening, engaging in activities that resonate with your heart adds a layer of fulfilment to your journey. These passions become the threads that weave a tapestry of purpose and creativity, making life undeniably sweeter.
Cultivate Meaningful Connections:
Human connections are the true gems that life offers. Cultivating relationships that uplift, support, and enrich your life creates a sense of belonging and shared experiences. Friends who become family, and family who become friends, form the backbone of a life well-lived. Invest time and effort in nurturing these bonds; they are the sweetness that makes life meaningful.
Step Out of Your Comfort Zone:
Life's sweetness often lies just beyond the edges of our comfort zone. Embrace new experiences, travel to unfamiliar places, and challenge yourself to learn and grow. The thrill of stepping into the unknown, conquering fears, and expanding your horizons adds layers of flavour to your life's journey.
Live in the Present:
The past is a collection of memories, and the future is a realm of possibilities. The present, however, is where you truly live. Embrace the gift of the now by practising mindfulness. Be fully present in each moment, whether it's a quiet evening at home, a busy day at work, or a laughter-filled gathering with friends.
Choose Positivity and Gratitude:
Life's sweetness flourishes in a heart that's open to positivity and gratitude. Focusing on what you have, rather than what you lack, can transform your perspective. Express gratitude for the experiences, relationships, and opportunities that come your way. This outlook amplifies the sweetness of life's blessings.
Create Lasting Memories:
Fill your life's canvas with memories that will bring a smile to your face even in the years to come. Travel to new destinations, embark on adventures, celebrate milestones, and create traditions that bind generations together. These memories become the cherished flavour that lingers on the palate of your soul.
Cherish Love and Laughter:
Love and laughter are the sugar and spice of life. Surround yourself with those who bring joy, laughter, and love into your life. Create spaces where love flows freely, where laughter is a constant companion, and where the bonds are strengthened through shared happiness.
The Bittersweet Symphony:
While life's sweetness is undeniable, it's important to acknowledge that it's often accompanied by challenges, losses, and moments of bitterness. These contrasting flavours are what make life a bittersweet symphony. Embracing the highs and lows with resilience and grace enriches the overall experience.
Life is Short, Make It Sweet: The Inspirational Journey of Nelson Mandela
Nelson Mandela, an icon of resilience, leadership, and the embodiment of making the most of life's fleeting moments exemplified the essence of the phrase "life is short, make it sweet" through his remarkable journey.
Born in a time of racial segregation and oppression, Mandela faced adversities from a young age. However, his response to those challenges defined his legacy. He chose a path of resilience, unwavering commitment to justice, and a dedication to improving the lives of others.
Overcoming Adversity:
Mandela's early life was marked by the injustice of apartheid in South Africa. Despite the odds stacked against him, he pursued education, becoming a qualified lawyer and advocating for the rights of the marginalized. His determination to overcome adversity laid the foundation for his future impact.
Champion of Equality:
Mandela's involvement in the African National Congress (ANC) intensified as he fervently advocated for racial equality and an end to apartheid. He led peaceful protests, engaged in civil disobedience, and sought international support to dismantle the oppressive regime.
Long Walk to Freedom:
In 1962, Mandela was arrested and imprisoned for his anti-apartheid activities. He spent 27 years behind bars, during which he continued to symbolize hope, resilience, and unwavering commitment to his principles. His autobiography, "Long Walk to Freedom," reflects his journey of sacrifice and determination.
Embracing Forgiveness:
Upon his release in 1990, Mandela faced the monumental task of reconciliation in a divided nation. Instead of bitterness, he chose forgiveness and unity. He famously said, "As I walked out the door toward the gate that would lead to my freedom, I knew if I didn't leave my bitterness and hatred behind, I'd still be in prison."
Symbol of Unity:
In 1994, Mandela's relentless efforts culminated in South Africa's first multiracial democratic elections. He was elected as the country's first black president, a symbol of unity and a testament to his lifelong dedication to justice and equality.
Legacy of Inspiration:
Mandela's legacy extends beyond his presidency. He worked to improve education, healthcare, and the lives of those who had suffered under apartheid. His commitment to social justice, human rights, and the power of forgiveness reverberated globally, inspiring people to strive for positive change in their own lives and communities.
A Life Well-Lived:
Nelson Mandela's journey from prisoner to president, from adversity to triumph, embodies the essence of making life sweet despite its challenges. He dedicated his life to creating a better world, showing that even amidst adversity, one can leave a lasting impact through perseverance, compassion, and the pursuit of justice.
Mandela's story serves as a reminder that life is indeed short, but its sweetness lies not in its duration, but in the depth of purpose, love, and positive change we can bring to our own lives and the lives of others.
In the end, life's sweetness isn't a destination but a journey. It's a culmination of moments, emotions, and connections that paint the canvas of your existence. So, as you navigate the pathways of life, remember to sprinkle it with kindness, purpose, and the pursuit of experiences that make it truly sweet
In the grand tapestry of existence, the phrase "life is short" serves as a poignant reminder of the fleeting nature of our time on this planet. Each passing moment brings us closer to an unknown future, urging us to savour the present and fill it with the sweetness of experiences, memories, and connections that define…
In the grand tapestry of existence, the phrase "life is short" serves as a poignant reminder of the fleeting nature of our time on this planet. Each passing moment brings us closer to an unknown future, urging us to savour the present and fill it with the sweetness of experiences, memories, and connections that define…