Love your family, work super hard, live your passion
In the journey of life, we often find ourselves seeking a balance between various aspects that contribute to our happiness and fulfilment.
Three key elements that consistently stand out are the love for our family, the dedication to hard work, and the pursuit of our passions. When combined, these components create a recipe for a truly enriching and meaningful existence. This blog explores the profound impact of loving our family, working diligently, and living life passionately.
The Essence of Family Love :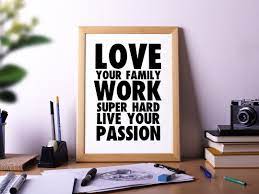 Family is the cornerstone of our lives. The love and support we receive from our family members shape our identities and provide a sense of belonging. From the tender care of parents to the camaraderie among siblings, family love offers a stable foundation. It's a bond that transcends difficulties and celebrates triumphs. Nurturing these relationships brings joy and provides a safety net during challenging times.
The Power of Hard Work:
Hard work is the driving force behind progress and achievement. It's through our dedication and perseverance that we overcome obstacles and reach new heights. Whether it's excelling in our careers, pursuing personal goals, or contributing to our communities, hard work amplifies our potential. The sense of accomplishment derived from putting in the effort fuels our self-esteem and motivates us to keep pushing forward.
Living with Passion:
Passion is the spark that ignites our souls and fuels our creativity. When we engage in activities that truly resonate with us, we experience a deep sense of fulfilment. Whether it's a hobby, a career, or a cause, living passionately adds colour and depth to our lives. Passion drives innovation, invites curiosity, and cultivates a zest for life that is infectious to those around us.
Harmonizing the Elements:
Balancing these three elements – family love, hard work, and passion – requires conscious effort. It's about finding synergy between responsibilities and pursuits that matter most to us. Prioritizing family time while pursuing our passions and excelling in our work might seem challenging, but it's a delicate equilibrium that can lead to a holistic and fulfilling life.
Overcoming Challenges:
Challenges are inevitable, but our approach to them can define our path. The support of our family can be a pillar during tough times, offering guidance and solace. Hard work equips us with the resilience needed to navigate obstacles, while our passions provide a positive outlet for stress and a source of inspiration.
Conclusion:
In the grand tapestry of life, weaving together the threads of family love, hard work, and passionate living creates a masterpiece. Loving and being loved by our family, working diligently towards our goals, and embracing our passions empower us to lead lives rich in purpose and contentment. As we journey through life, let us strive to nurture these elements, recognizing that their harmonious interplay holds the key to an advantageous existence.
In the journey of life, we often find ourselves seeking a balance between various aspects that contribute to our happiness and fulfilment. Three key elements that consistently stand out are the love for our family, the dedication to hard work, and the pursuit of our passions. When combined, these components create a recipe for a…
In the journey of life, we often find ourselves seeking a balance between various aspects that contribute to our happiness and fulfilment. Three key elements that consistently stand out are the love for our family, the dedication to hard work, and the pursuit of our passions. When combined, these components create a recipe for a…