Every Accomplishment Starts with the Decision to Try: The Power of Taking Action
Have you ever stopped to think about the achievements and successes in your life? Behind each one, there's a common thread—a moment when you made a decision: the decision to try. It's a simple yet profound truth that lies at the heart of personal growth and accomplishment. In this blog, we'll explore the idea that every accomplishment, no matter how big or small, begins with that pivotal decision to try.
The Inertia of Inaction
Life is filled with opportunities and possibilities, but they often remain dormant unless we take action. Many people find themselves trapped in the inertia of inaction, held back by fear, self-doubt, or the comfort of the familiar. They may have dreams, ambitions, and ideas, but without the decision to try, these aspirations remain unfulfilled.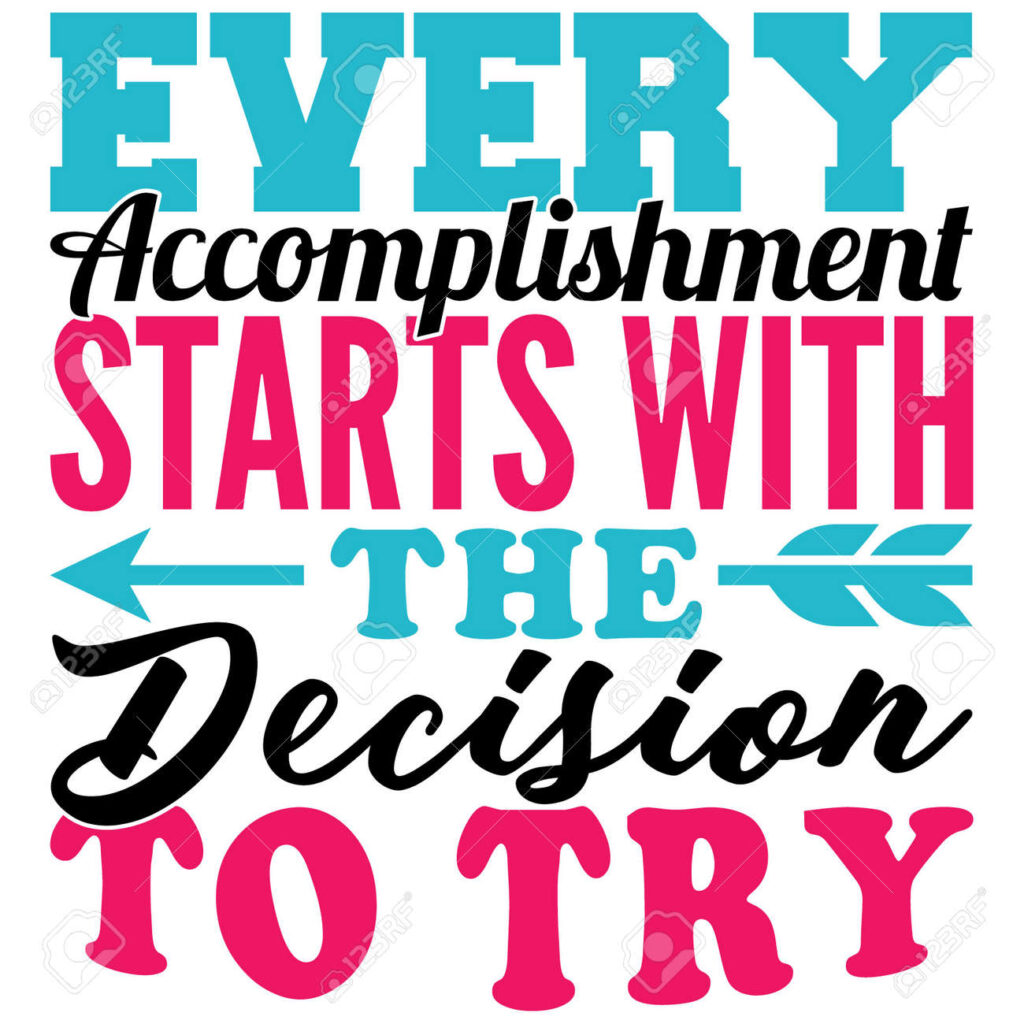 Overcoming Fear: Fear of failure, rejection, or the unknown can be paralyzing. However, making the decision to try is like flicking a switch that can illuminate even the darkest corners of uncertainty. It's a declaration that you are willing to face fear head-on and embrace the possibility of success.
Learning from Failure: Failure is an integral part of the journey to success. When you decide to try, you acknowledge that failure is a possibility, but you also recognize that it's a stepping stone to growth and improvement. Every setback becomes a valuable lesson on the path to accomplishment.
Breaking the Status Quo: The decision to try is a rebellion against complacency. It's the realization that staying in your comfort zone may provide temporary comfort but won't lead to personal growth or significant achievements. Trying something new or challenging yourself is the first step toward meaningful progress.
The Domino Effect of Trying
Once you make the decision to try, a powerful domino effect is set in motion. Taking action often leads to more action, creating momentum that propels you forward on your journey.
Increased Confidence: Trying and taking action boosts your self-confidence. As you see your efforts produce results, no matter how small, your belief in your abilities grows. This increased confidence becomes a self-reinforcing cycle that empowers you to take on bigger challenges.
Expanding Horizons: Trying opens doors to new experiences and opportunities you might not have encountered otherwise. It broadens your horizons, introduces you to new people and perspectives, and enriches your life in unexpected ways.
Accomplishments and Achievements: The decision to try is the foundation upon which accomplishments and achievements are built. It's the driving force behind turning dreams into reality and ideas into innovations.
Conclusion
"Every accomplishment starts with the decision to try" serves as a powerful reminder that you hold the key to your own success. Whether it's pursuing a new career, starting a business, learning a new skill, or taking a leap of faith, it all begins with that initial choice to try. So, don't let fear or doubt hold you back. Embrace the power of action, make the decision to try, and watch as your efforts transform into accomplishments that shape your future and inspire others to do the same. Remember, every great journey starts with that first step.
Have you ever stopped to think about the achievements and successes in your life? Behind each one, there's a common thread—a moment when you made a decision: the decision to try. It's a simple yet profound truth that lies at the heart of personal growth and accomplishment. In this blog, we'll explore the idea that…
Have you ever stopped to think about the achievements and successes in your life? Behind each one, there's a common thread—a moment when you made a decision: the decision to try. It's a simple yet profound truth that lies at the heart of personal growth and accomplishment. In this blog, we'll explore the idea that…